Making something to carry your gear in from scratch in the wild is not always easy.
A store bought rucksack is the answer for most people. Nowadays most rucksacks are of the internal frame type, although the external frame rucksack still exists.
The rucksack doesn't need to be expensive.
The new Norwegian army rucksack M/96
The last few years I have begun to use the "New" army rucksack.
The M/96 is a wast improvment With padded shoulder straps and a simple but OK hip belt.
There is a zipped compartment in the front of the lid for smaller odds and ends.
Ìt had no side Pockets but I made some from a couple of old hip/belt pouches.
The rucksacks volume is around 35-40 litres (minus the side Pockets). And it is plenty big enough for a weekend Fishing trip.
I own an old, but unused, Norwegian army Bergen M53 bought for 100 NOK at an Army surplus store many years ago.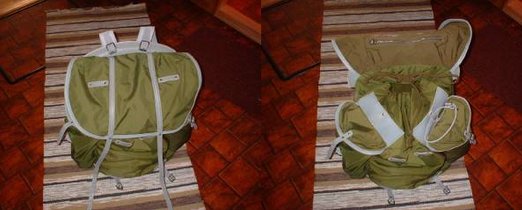 I don't know the size of mine (probably around 50-60 litres), but it is big enough to hold the stuff most people need for a weekend trek, although I only use it for fishing gear these days.
The Comfort of the straps goes Down the drain when carrying more than 10-12 kiloes.
A trick used in the army was to cut of 6-7 centimeters of the sleeping mat, cut the strip in two pieces and tape it to the rucksack straps.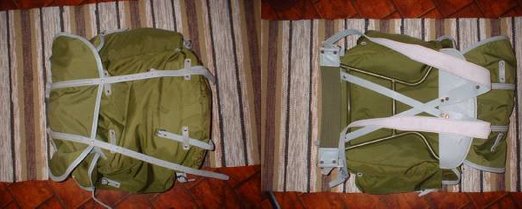 The rucksack has two side pockets, a small compartment in the lid and a large main compartment.
Skies, axes or other long objects can be stuffed between the side pockets and the main compartment.
There are also two leather straps for attaching gear over the two side pockets.
I've later modified it attaching three small pockets from an Alice pack in front of the rucksack.
There are lot of rucksacks that are better to carry, but few at that price.
And besides it doesn't weigh much.
I also own a Norrøna Recon pack.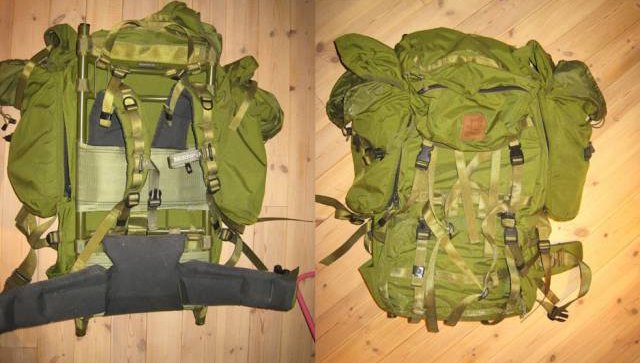 It is an awesome rucksack.
External frame, wide hip belt, very good to carry and a volum of 125 litres (with side pockets).
The lid has two pockets, one internal, under the lid, and one in the front of the lid. Both zip locked.
The main compartment can be divided into two compartments. The lower compartment is then reached via a zipper in the lower front of the ruck.
I only use it in a one compartment configuration.
The main compartment also has a snow lock to prevent snow from blowing ito the rucksack.
I use it less often than my other rucksacks. It is just too big for most of my use.
It is more of a ruck for long expeditions, or hauling very heavy loads, and when using it I tend to fill it with a lot of stuff I don't use.
It is my number one choise in wintertime though, when I`m packing a tent, ice fishing gear, extra clothes and a sleeping bag.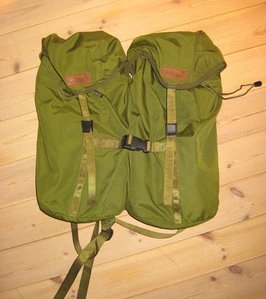 The side pockets are zipped to the main compartment and could be taken off and joined together to form a two compartment day sack (volum 24 litres). A handy thing one might say, but you will not find room for larger items in it.
Under the big pockets I have attached two smaller ones.
These pockets are used for camera, bug spray, binoculars, first aid kit and other useful items.
The pockets are removable and can be used as belt pouches if needed.
The Norrøna rucksack is also too heavy to use on daytrips.
It weighs about 3-4 kilos in itself.
And it has a hefty price tag.
The bag is used by our armed forces, mostly special units.
When you learn to take along just the items you need (I let you know when I've learned it myself), you will see that your rucksack doesn't need to be very big.